SoTL by Design
Receive the support you need for designing and implementing successful Scholarship of Teaching and Learning projects.
A Comprehensive Online Course
SoTL by Design is your comprehensive guide to navigating the IRB process, choosing a research question, exploring SoTL research designs, mapping evidence, creating a data analysis plan, crafting a project timeline, and strategizing about the dissemination of SoTL project results.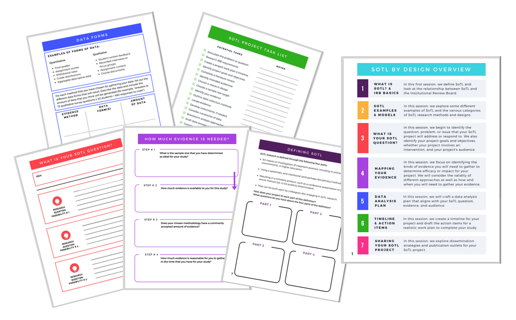 Engaging Step-by-Step Activities
All SoTL by Design licenses come with a printed workbook filled with engaging activities for designing and implementing a Scholarship of Teaching and Learning project. Each section of the workbook is color-coded with activities aligned to SoTL by Design course goals and objectives.
Support & Updates
Each SoTL by Design license includes lifetime course access to a growing library of SoTL study examples, templates, and additional resources with all updates to course materials free-of-charge. Each license also includes the opportunity to engage with the course author to ask project-specific SoTL questions.